Frederick May
Dictionary of Irish Biography
Joseph J. Ryan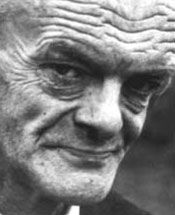 May, Frederick ('Freddie') (1911–85), composer, was born 9 June 1911 in Dublin, son of Frederick May, who worked in the city's Guinness brewery, and his wife, Jeanne. The family were Church of Ireland and Freddie enjoyed a relatively comfortable upbringing on Marlborough Road, Donnybrook. He studied at the
RIAM
and at
TCD, where he gained a primary degree in music in 1931. Like so many of his generation, he took his early composition lessons with
John Larchet
(qv), but he was singular in his age in pursuing further studies abroad, initially at the Royal College of Music in London with Gordon Jacob and Ralph Vaughan Williams, whose music he especially admired. It was there in 1933 that his first major work was premièred, the short
Scherzo for orchestra
, a confident piece that demonstrates a keen command of orchestration and also reveals May's dramatic conception of composition. Its success helped to earn him a travelling scholarship for an additional term of study in Vienna.
May's musical horizons had always stretched beyond Ireland and the award offered the opportunity to work with Alban Berg, a member of the Second Viennese School, for whom Gustav Mahler was a dominant inspiration. However, Berg's untimely death in December 1935 occurred shortly before May arrived and he studied instead with Egon Wellesz. The experience confirmed May in his espousal of the modern European aesthetic and ensured that he was the least insular Irish composer of his generation. He was already at work on one of his towering achievements, the String Quartet in C minor, when he received the news of Berg's passing. By his own testimony, the quartet was influenced by this event. The dark mood of the work also reflects May's knowledge that he was suffering from the earliest symptoms of otosclerosis, which indicated that he would face a progressive hearing loss; the affliction was to torment him for the rest of his life. An impressive and introspective essay, and his only work in this form, the String Quartet ranks as one of the most individual statements by an Irish composer in the first half of the century. While it is fashioned in a single movement it comprises three distinct sections with one (optional) pause for retuning. The opening of the quartet suggests a study in dodecaphonic composition; while there is admittedly an experimental element within the work, May ultimately relaxes into a freer tonality. Thus the quartet marks the epoch of his avant-garde ambitions. After his study with Wellesz, May reverted to a style reminiscent of Max Reger or Mahler, just as Wellesz himself had done. Studying in Vienna during the rise of national socialism further honed May's political sensibilities which are apparent in certain of his later works.
When May returned to Ireland in 1936 he courageously expounded his more cosmopolitan view of music in a society that remained inherently conservative, writing in
The Bell
on the role of the arts and the artist in society. He proposed Jean Sibelius as the exemplary national musician, one who was both individual and the consummation of a long tradition. May's ultimate purpose was to create in Ireland a centre of study that could provide for young indigenous musicians the standard of experience he had enjoyed in Vienna. His calls for the creation of a national academy of music went unrealised. He continued to expound his views on this and other practical musical matters in a series of cogent articles, which all confirm that he warmly embraced the broader art-music tradition and strongly resisted the insularity in creative approach that was advocated by some of his contemporaries working in Ireland. Although he had some voluble supporters, his stand effectively increased his sense of isolation.
May likewise found the career of a composer challenging. Larchet proposed him as his successor in the post of music director at the Abbey Theatre, Dublin. May held the post for thirteen years (1936–48) which afforded him some level of support for his creative endeavours. A modernist technique is evident in two orchestral compositions, the
Symphonic ballad
(1937), given its first performance by the
BBC
Northern Ireland Orchestra under
E. Godfrey Brown
(qv), and the impressionistic
Spring nocturne
(1938). Inspired by the Meath countryside and bearing the subtitle 'an idyll for orchestra', the latter is set, like the quartet, in a single movement with distinct sections. It was premièred by
Aloys Fleischmann
(qv) and the Radio Éireann orchestra at the Gaiety Theatre in April 1938. The
Lyric movement for string orchestra
(1939) was inspired by the Dublin String Orchestra of
Terry O'Connor
(qv), who first performed the work at the
RDS
in 1943. The theme of rebirth evident in
Spring nocturne
is also to the fore in May's largest creation,
Songs from prison
(1941), for orchestra and baritone solo. Based on a text by the German poet and dramatist Ernst Toller, it speaks eloquently of May's political convictions and particularly of his regard for human dignity. He initially set the original German text which was later translated by Nigel Heseltine, the son of the composer Peter Warlock (Philip Heseltine).
May's own dignity suffered much in his ambition to become a dedicated composer in Ireland. The final decades of his life were marked by personal and financial difficulty and growing disenchantment; he endured ill health and creative torpidity. Friends persuaded him to create one final work, the major essay for orchestra
Sunlight and shadow
(1955), but this proved to be the exception: his circumstances constrained him to expend time on arrangements of Irish music, which were supported through Radio Éireann's commissioning scheme. Well intentioned in conception, this initiative resulted in a catalogue of rather anodyne arrangements instead of any appreciable corpus of new work. May was a member of Aosdána, but his final years were troubled. He died 8 September 1985 in Dublin and was laid to rest in Mount Jerome cemetery. One of the most imaginative of the first generation of composers to emerge in the newly independent Ireland and the most auspicious creative talent of his time, May sadly never realised his true potential.
Sources
Axel Klein, Die Musik Irlands im 20. Jahrhundert, Hildesheimer Musikwissenschaftliche Arbeiten, ii (1996), 435–7; Philip Graydon, 'Modernism in Ireland and its cultural context in the music and writings of Frederick May, Brian Boydell, and Aloys Fleischmann' (MA thesis, NUI, Maynooth, 1999); The new Grove dictionary of music and musicians, 2nd ed., ed. Stanley Sadie (2001)
Pick up a copy of Freddie May's String Quartet In C Minor here:
https://claddaghrecords.com/products/cd-frederick-may-string-quartet-in-c-minor