RTÉ | September 7th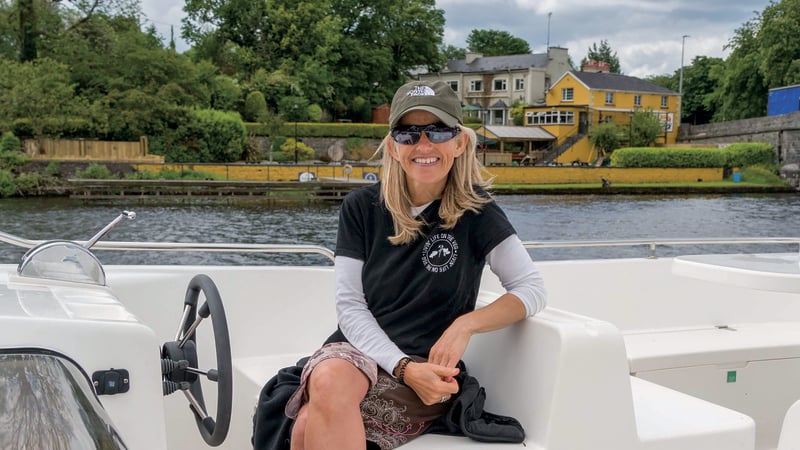 In a new travel show, Sharon Shannon and her niece Caoilinn Ní Dhonnabháin, embark on a musical journey down the Shannon.
In a new travel show, Sharon Shannon and her niece Caoilinn Ní Dhonnabháin, embark on a musical journey down the Shannon. They talk to Darragh McManus about life on board a river barge.
Over the last 30 years, Sharon Shannon has established herself as a global trad music superstar and all-time legend of Irish music. Now the acclaimed accordionist adds – so to speak – another string to her bow with new TG4 series
Heartlands
, a travel show with a musical bent.
Heartlands
sees Sharon journey down her namesake river by boat, from its headwaters in Cavan to her native county of Clare. Along for the ride is Sharon's niece Caoilinn Ní Dhonnabháin, a teacher and musician.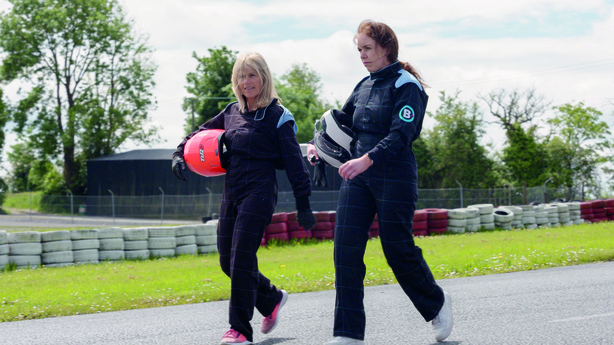 Both women grew up in Ruan, a village barely five miles from where your trusted correspondent lives. These days, they're both slightly (but not too much) further afield, so our Zoom call formed a three-pointed star in beautiful Co. Clare as we chatted about meeting old friends, making new ones, navigating the "Broad Majestic Shannon" and learning more about this sometimes-neglected part of Ireland.
Caoilinn, what was it like seeing yourself on television?Caoilinn
: It was…different! It's not very nice hearing your own voice, but no, it was good. I'd done a very small amount of TV before. I played fiddle on
The Late Late Show
with Sharon at Christmas (alongside Adam Clayton, Denise Chaila, Mundy, Donal Lunny and others on a special tribute show), and we did
Family Fortunes
years ago (on TV3).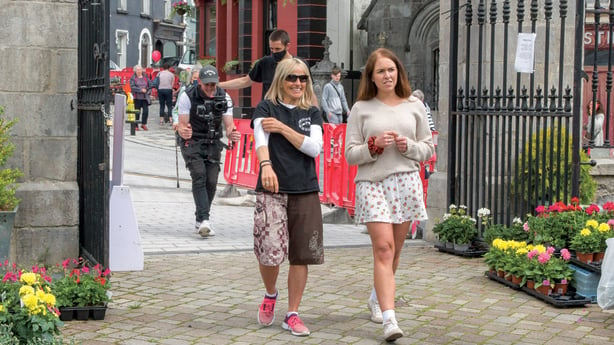 How did you get involved with this show?C:
I got a call from John Dunford, Sharon's manager, asking would I be interested. Of course, I jumped at the opportunity, it sounded fantastic. It all happened very quickly, over a month or two.
Sharon:
Both John and myself knew that Caoilinn would be well able for it, she's a fluent Irish speaker and teaches in a Gaelscoil (Gaelscoil Sáirséal in Limerick city), and had also done a media course in college…
C:
Yeah, I did Media & Gaeilge in Mary Immaculate before a Master's in Teaching. So I had that bit of experience under my belt. I don't get too worried about being in front of the camera. Interviewing people was a bit out of my comfort zone, but I got more used to it by the end.
S:
She's as cool as a breeze and took to it like a duck to water. I knew she'd be brilliant. We're as proud of her!
C:
Let's be proud of you too, Sharon, the whole show is fantastic and so well put together. The team were brilliant. We had an amazing time. It was like a holiday.
S:
It was. I can't wait to go down the Shannon again.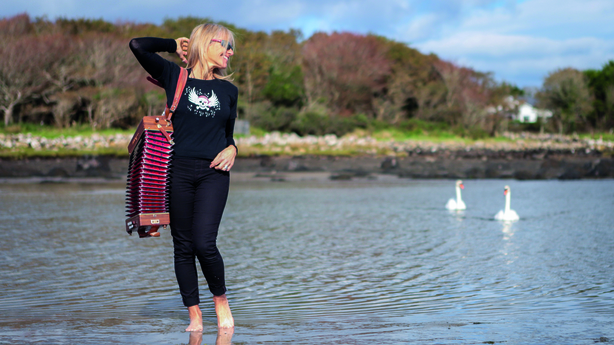 Are you also an Irish speaker, Sharon?S:
Not really. I have school Irish. I was able to understand everything going on in the show, and threw in a few words of Irish, but mostly I spoke in English; I'm not confident enough as Gaeilge. But I did my best and I learned loads.
C:
She has a great cúpla focal, and uses them on the show!
When did you make the show?C:
Beginning of the summer, just a while ago.
S:
They got it done very fast. It was eight or nine days, non-stop – very long days, up early every morning and finishing late. It was funny; at the start you'd have the hair washed and blow-dried each morning…but after long days, then a few drinks at night, and starting work again at seven, you couldn't be waking an hour earlier to spruce yourself up!
C:
If you'd ever told me I'd be going on television without having washed my hair the night before…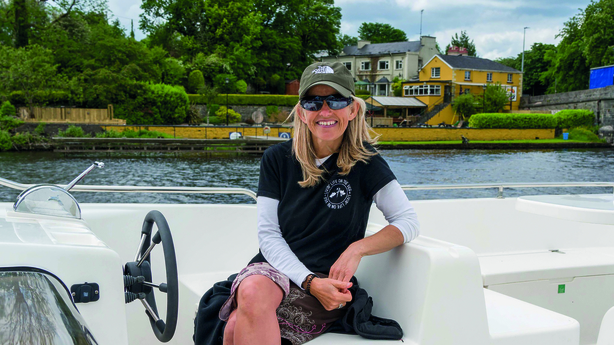 What was the production like?
C:
We could spend a few days in one spot, or go to several places in one day. You might move between counties, be travelling all day. Generally, the show revolves around that – we'd be on the boat for about four hours.
S:
We each had a double-room on the boat; we loved staying on it. It was massive – like a gigantic camper-van.
C:
I learned all sorts of things I didn't know, like you have to go through ports along the river at certain times, or a certain bridge will only open once a day. You have to be there at that time, and it's not like you can drive faster in a boat. It's 15 miles an hour and that's it. We had a great navigator called Pateen, from Quin in Clare, who had an interesting system. John Dunford was using sat-nav or whatever, but Pateen's system involved measuring distances on a map with a credit card! But it worked fairly well…
S:
Producers had the itinerary mapped out. We started at Kilronan Castle in Roscommon and the Shannon Pot in Cavan, source of the river. We met Manchán Magan and played music at Kilronan with Liam Ó Maonlaí and Steve Wickham. We had an absolutely fantastic time. There's loads of music in the show. We were joined on the boat by Ronan Piper, a Dublin piper, who owns a barge himself and showed us the ropes: how to drive them, waiting for the locks to open, all that. We met Eleanor Shanley in Carrick-on-Shannon, Nathan Carter, Robbie Henshaw, Mundy… Two or three pieces of music per episode, as well as travel and good craic. It's a nice time for a programme like this, with so many people staying at home, and it'll hopefully show people what an amazing place it is, along the Shannon. Absolutely gorgeous towns and villages all the way down.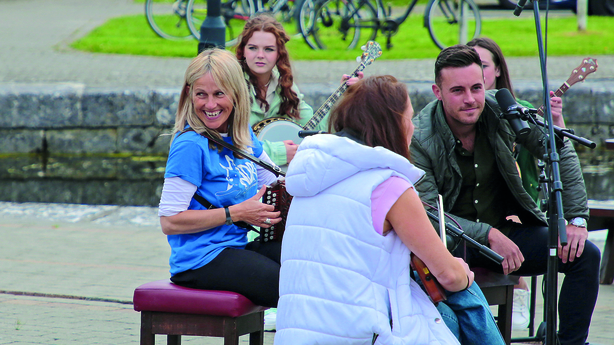 C:
Villages on the water are so special, and there's usually a nice little pub or somewhere to eat, overlooking the water. It's a part of Ireland I didn't really know before. We always think of the sea when we think of water, and don't consider rivers. But it was fabulous.
S:
I'd highly recommend it. Lovely places and lovely people – and a great community vibe among the boating people. They all help each other out and are really friendly to each other.
C:
It's like they all know each other already. It's this whole other community that nobody knows exists unless you're already in it!
S:
The final stop was Killaloe in Clare, where we did a tribute to Brendan Grace as part of a surprise birthday greeting to (his wife) Eileen over in Boston. A compilation video of people singing happy birthday. Myself and Caolinn wrote a 'tune dána'! At the end of each part someone had to call out a 'focal dána'.
Would the two of you like to do another one of these shows together?
S:
Yes, please!
C:
Yeah, sign us up. I'd love to go from Donegal to West Cork and Kerry.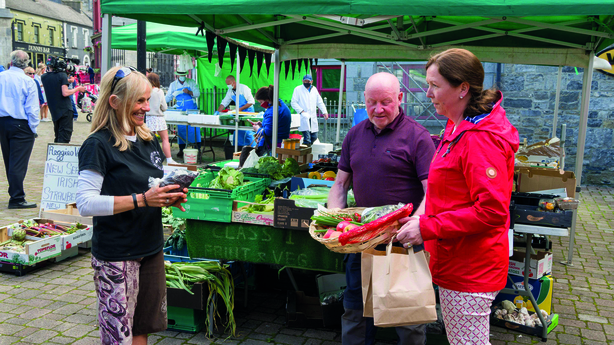 Have you played music together a lot?
C:
Yes, but we probably could play together a lot more, as a family. There are so many of us who play music. My brother Ross, my cousins Darragh and Cillian, Áine's a lovely dancer, Saoirse plays, Gary, and Sharon of course… We did a show for TG4 around Christmas, not everyone was there but it was brilliant. We were all saying, we should do this more often.
S:
That was our first time doing a show with the two generations playing together like that. We put a lot of work in and were very happy with the result. It's a fantastic thing to be able to do with family. We're lucky.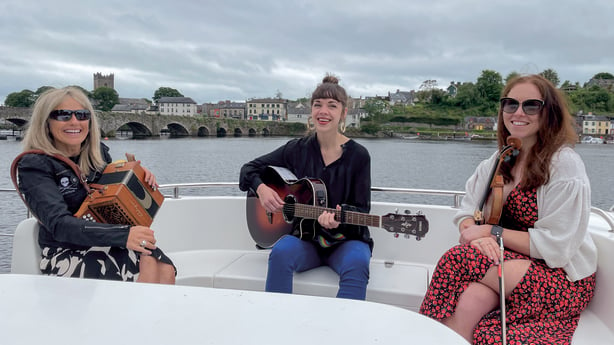 Would you also like to record together?
C:
I've never really done anything like that. I'd say if we were to record something, it'd be the broader family.
S:
We wouldn't need to bring in any other musicians, you'd have everything you need within the family group. Guitar, double bass, everything.