Blessed Sadness is the new album by composer and performer Antoni O'Breskey released on the 14th of July 2021. 
Conceived at the beginning of the first lockdown in 2020, the album was recorded between Italy and Ireland during last summer, in collaboration with an extensive ensemble of musicians, including Ultan O'Brien  (Slow Moving Clouds), Davide Viterbo  (Distant City), Consuelo Nerea Breschi  (Varo), Paddy Cummins  (Skipper's Alley), Leonora Lyne  and many more. 
The Album comprises a journey between new compositions, such as 2020 Rhapsody, Cloudburst, Blessed Sadness, Waltz to Forgotten Times, Baigali Khan and Unfolding Lullaby, one remixed version of Antoni O's past compositions: Dancing on the Green (1982) with a young Steve Cooney  on didgeridoo, two traditional songs newly arranged, Eighteen Years Old and Barbara Allen as well as two traditional instrumentals, The Swallow's Tail and Doctor O'Neill's.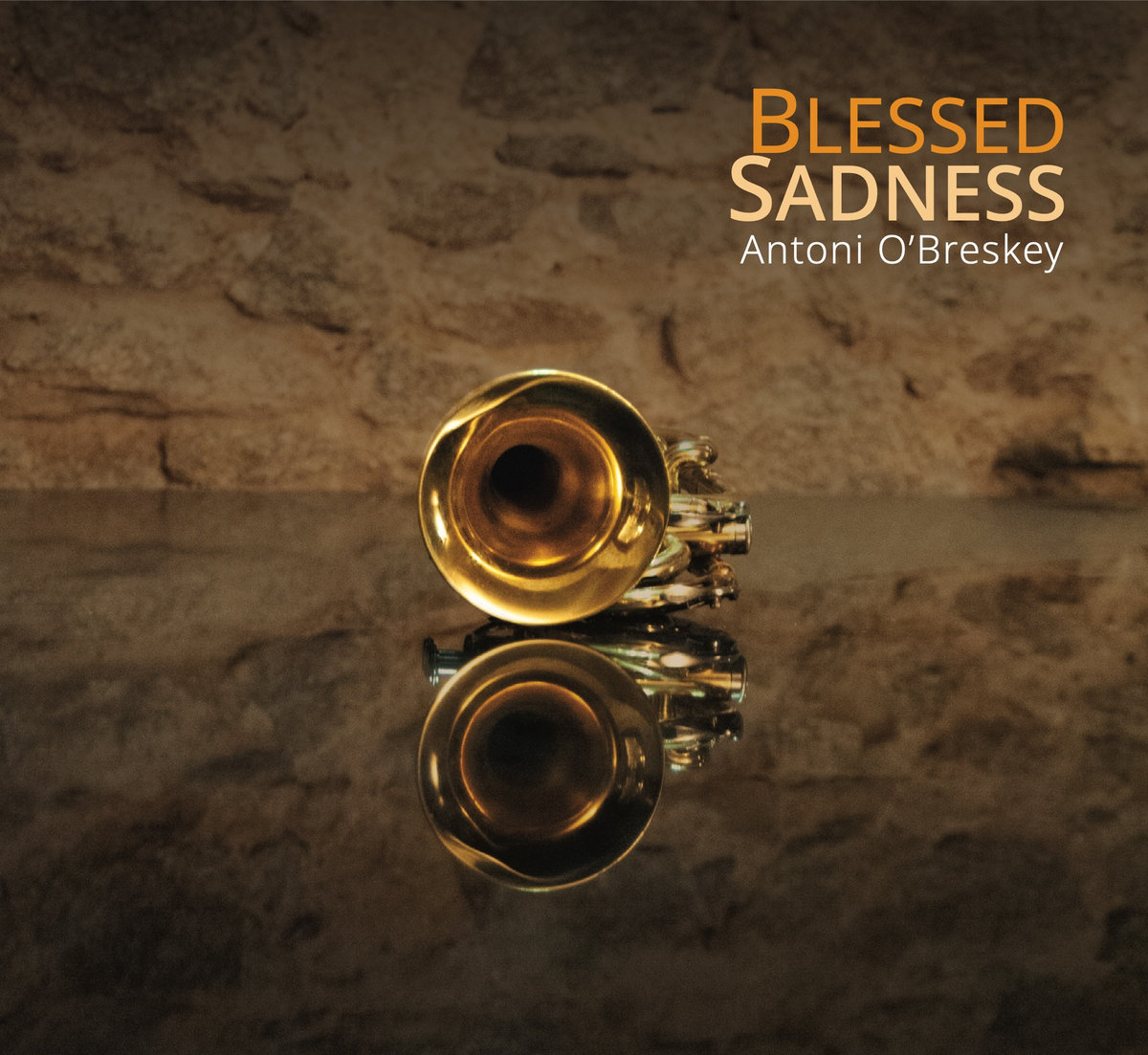 Antoni O'Breskey speaks about the album:
'Guadalupe', an old Galician traditional song says in one of the verses: 
"Many people think that I sing because I'm happy, but that's not the case, I sing because I'm like the birds, if they don't sing, they die!" 
Blessed Sadness is the title of the album, and I'd like to thank artist Milena Giacomazzi for capturing the cover picture; a trumpet reflecting its image on the black surface of a piano which is seemingly transforming into a dark, deep ocean. 
The trumpet is emblematic of the traditional jazz era with roots in the blues, transforming a song of sadness into one of joy. 
The same evocative spirit, the so called 'duende', that for me, is a thread that links all traditions; where struggle, sorrow, power and joy are intertwined, from the Irish 'sean-nos', to the 'cante jondo' flamenco, the 'gypsy catharsis', to the West African talking drums tradition.
The conception and development of this work commenced in 2020, in the conditions and with the means and resources that were available to us at a time of uncertainty, on the one hand imposed limitations, but on the other, led to new unforeseen possibilities. The 'I Ching, The Book of Changes' states that the power that makes us go beyond obstacles in life, if used in the correct way, is the same power that makes us then reach new aspirations. 
So in these conditions, since 2020, when travel was (and still is) difficult, and the social 'closeness' was (and still is) forbidden, we made our best effort to maintain this contact, because I feel that music cannot take place without human interaction. Thus, new situations emerged that we had never before imagined and which we found incredibly inspiring and exciting. 
The title Blessed Sadness was given to me by Davide Secondi, half-Italian half-Finn, who lived with me in Ireland several years ago working in a few restaurants as a pizza maker, and playing drums in a couple of bands at night. 
While he was there he picked up a ukulele in the house, and from the instrument emerged such wonderful, magical sounds; sounds of powerful feelings, of a profound closeness that seemed to come from vast distances, feelings of immense warmth that seemed to come from an infinite coldness. And what could be more current than this? 
One morning a year ago I received a beautiful ukulele musical piece and Davide told me "Here's a gift for you, it's called 'Blessed Sadness' , do whatever you like with it." 
That is how this album was born, and I chose this title because it represented for me exactly the situation that humanity was experiencing at the time, and continues to face. 
Luckily, I was in Dublin when Davide sent me the piece and thus I attempted to create a thread that would gather a group of exceptionally talented musicians with whom I have had lively musical exchanges and great friendships with over the years. 
With Ultan O'Brien, Tom Mulrooney, Leonora Lyne, Aongus Mac Amhlaigh, Paddy Cummins, Seán Conway, and my daughter Consuelo Nerea we began to work on the project and our enthusiasm grew more as the project grew. Since the first lock down in 2020 we began exchanging material and ideas with the Italian contingent involved in this project: cellist, violinist and producer Davide Viterbo, with whom I have had the pleasure of working with over the last 20 years on numerous projects, Massimo Giuntini, Davide Secondi and Giorgio Vendola. 
Oh, and I must not forget the two surprise guests on the album! 
In 1982 I recorded an album with Steve Cooney and David Hopi Hopkins; there was a track, 'Dancing on the Green', that seemed perfect for this album, and I wanted to give it a new life, so I asked Paddy Cummins to play over the recording, and here we go, past and present, almost 40 years later we have an Appalachian dulcimer, didgeridoo, bodhrán and banjo combination! 
The experience of making this album felt diametrically opposed to what the surrounding world offers us today and for this we are very grateful, but we also want to offer our experience to everyone, through these notes, hoping that these feelings will spread as far and wide as possible, because I think that music should serve this purpose in these times.
'' While a combination of influences presents a unique and considered sound, O'Breskey's piano interplay is quite breathtaking, drawing as much from jazz as he does Irish traditional music; his musical approach is quite mesmerising." 
Alex Gallagher, FOLK RADIO UK 
Tracklist: 
Blessed Sadness 
Eighteen years old 
2020 Rhapsody 
The Swallow's Tail 
Barbara Allen 
Dancing on the Green 
Waltz to Forgotten Times 
Baigali Khan 
Cloudburst 
Doctor O'Neill's 
Unfolding Lullaby 
Musicians: 
Antoni O'Breskey
- piano, trumpet, appalachian dulcimer 
Ultan O'Brien
- fiddle, viola 
Davide Viterbo
- cello, fiddle 
Consuelo Nerea Breschi
- vocals, fiddle 
Aongus Mac Amhlaigh
- cello 
Paddy Cummins
- banjo, mandolin 
David 'Hopi' Hopkins
- bodhrán 
Massimo Giuntini
- low whistle, bouzouki 
Tom Mulrooney
- double bass 
Giorgio Vendola
- double bass